Monisha Clifton launched Moe's Delights, a bakery specializing in pies, in the midst of the COVID-19 pandemic. She first sold pies from her home, then moved on to baking in Cornerstone Baptist Church's commercial kitchen as her business's popularity grew. Unsure of how to continue sustaining her business' growth, Clifton was connected to Dallas College, and later to the   As part of the Venture Club, she had access to classes, workshops, coaching, and the facility's coworking space on Dallas College's campus.
The Dallas College Venture Club (DCVC) is a coworking lab designed for both students and community members who are starting or running their own business. The Venture Club is part of the Dallas Collaborative for Equitable Development (DCED), a partnership between TREC Community Investors, LiftFund, and Dallas College.
The DCED was launched in 2019 thanks to a generous $6 million investment from JPMorgan Chase & Co.'s Partnerships for Raising Opportunity in Neighborhoods (PRO Neighborhoods) program. It is dedicated to equitable housing and real estate development, jobs and wealth creation, and community ownership and leadership opportunities in three Dallas neighborhoods considered most vulnerable to rapid economic transition: The Bottom, West Dallas – CT 205, and The Forest District.
"DCED has always been about listening to the needs of our neighbors and responding based on their concerns. Through the Venture Club, we hope to empower a new wave of entrepreneurs and small business owners and set them up for long-term success," Felicia Pierson, senior director of Community Investment for TREC Community Investors, said.
The Venture Club seeks to address wealth creation and leadership opportunities  for entrepreneurs in Dallas by providing access to technology, tools, educational resources, and networking opportunities.
Networking and forming relationships through accelerator programs are critical to the success of Moe's Delights, Clifton said. She has also learned marketing tips and time management skills.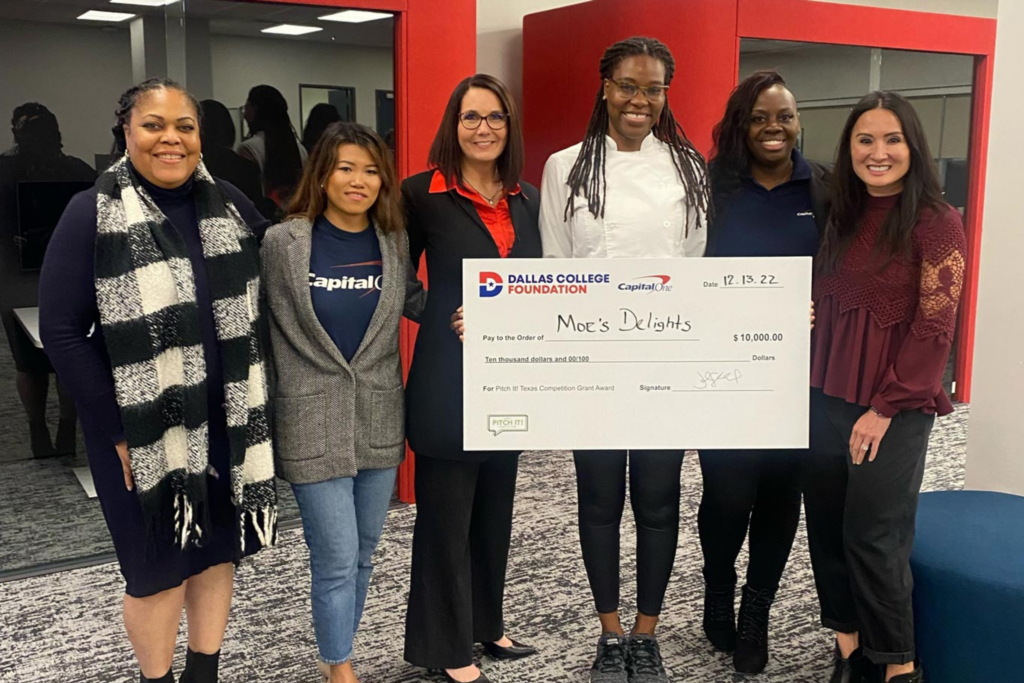 "As a business owner, you don't know what you don't know," said Cristin Thomas, executive director of Small Business and Entrepreneur Innovation at Dallas College. "We're teaching them how to compete. Small business owners are passionate, and they put everything on the line. Our job is to ensure that every entrepreneur receives the education, training, and guidance they need to be competitive."
Additionally, the Venture Club hosts a speaker series that brings a variety of business leaders to talk about their challenges. Its boot camp provides one-on-one sessions with instructors in specialized areas such as QuickBooks, taxes, and financing.
For Clifton and the other entrepreneurs connected to the Venture Club, the resources it provides do not just give them the tools they need to succeed, they also give them the confidence to continue growing.
"I have learned that I can do this business – not just to support my family but to create jobs and hire others," Clifton said.
Learn more about DCED and how this partnership is transforming Dallas here.